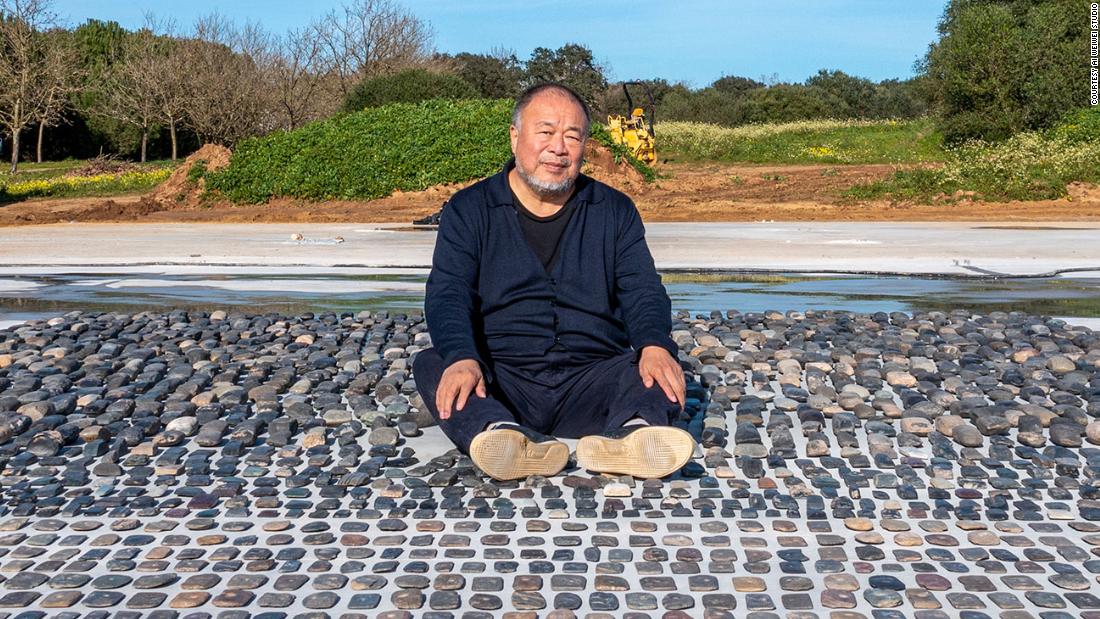 Written by Gareth HarrisLondon, UK
This article was originally published by The Art Newspaper, an editorial partner of CNN Style.The Chinese artist and activist Ai Weiwei is headed to the Design Museum in London this spring with a major new show unveiling works drawing on the Covid-19 pandemic. Three toilet paper sculptures will go on show — including two life-size rolls, one in marble and one in glass — demonstrating the demand for basic disposable products during the coronavirus crisis. The exhibition — described as the first to frame Ai's work through the lens of architecture and design — also focuses on the 2008 Sichuan earthquake and the changing urban face of Beijing over the past three decades.
"(The show includes) things we think of as worthless in ordinary times, something as worthless as a toilet roll, which during the pandemic suddenly became precious… that for him was a real signal of how objects can gain and lose value depending on the context of our times," said Justin McGuirk, the chief curator at the Design Museum and the exhibition curator, at an online press launch.
Crucially, he added, "we are not presenting Ai Weiwei as a designer and architect… (but) using his work and his thinking to reflect on design and architecture."

Ai Weiwei's 2020 artwork "Marble Toilet Paper." Credit: Courtesy Ai Weiwei Studio

Ai's "Marble Takeout Box." Credit: Courtesy Ai Weiwei Studio
A number of site-specific installations, comprising hundreds of thousands of objects arranged on the gallery's floor in sections known as "fields," form the centerpiece of the show. These consist of works collected by Ai in recent years, encompassing items such as Stone Age tools and Lego bricks. The show will also include Ai's largest work ever made out of Lego.
"This is a show about values; it is a meditation on cultural values and how they shift over time. It presents a history of making over thousands of years," McGuirk said.
"When you collect so much… it tells you about human society," Ai said at the launch.
During the Song dynasty, if porcelain items like teapots and wine ewers were not made perfectly, the spout would be broken off. The large-scale artwork "Spouts" comprises around 200,000 of them collected by Ai Weiwei and his studio. Credit: Courtesy Ai Weiwei Studio
One of the "fields," entitled "Left Right Studio Material," includes fragments from Ai's porcelain sculptures that were destroyed when his Left Right studio complex in Beijing was demolished by the Chinese state in 2018. "They (the pieces) have a moral value," Ai said. The Lego "field" will display bricks donated to the artist after the company briefly refused to supply him with material for a politically-charged artwork in the wake of a 2014 exhibition featuring Lego portraits of political prisoners.
Another "field" includes 1,600 neglected neolithic stone tools which Ai started collecting in the 1990s at places such as flea markets. "Nobody paid attention to them… they (market vendors) were really surprised I wanted them," Ai said.
Between the 200,000 porcelain spouts from teapots and wine ewers and the 100,000 porcelain displayed balls alongside them, other fields shine a light on ancient handcrafted works. "We often say modern people do not know how to wash a dish," Ai said. "In some senses, we are less understanding… about the touch, texture and shape of forms made by human hands." The field sections in the exhibition will not be cordoned off to visitors, who will be able to walk freely between them.

"Untitled (Lego Incident)" is made from bricks donated to Ai by Lego after the Danish company briefly refused to sell him products he might use in political artworks. Credit: Courtesy Ai Weiwei Studio
The tension between handmade and industrially produced items underpins the show, added McGuirk, highlighting the period of turbulence and transition that China has gone through in the past 30 years. Ai charts the changing face of Beijing following "the tremendous scale of urbanization and development which brought a lot of destruction, a devaluing of history, a wiping away of streetscapes and architecture," McGuirk added.
Meanwhile the coffin-like "Rebar and Case", references the earthquake that devastated Sichuan province in 2008, claiming almost 90,000 lives. More than 5,000 students were crushed under the rubble of their collapsed school buildings. Ai's new work "Nian Nian" consists of 26 prints representing more than 1,000 names hand-carved in a jade seal using calligraphy, creating a graphic memorial to the children who died.

Ai's "Coloured House" is one of several artworks showing outside the main exhibition space. Credit: Courtesy Ai Weiwei Studio
Some works will be shown outside the exhibition space, including "Coloured House," the timber frame of a house that once belonged to a family in Zhejiang province in eastern China during the early Qing dynasty.
"The loss of cultural memory is very much one of the themes of this show… Ai is bringing ancient and modern together," McGuirk said.
"Ai Weiwei: Making Sense" is showing at the Design Museum in London, UK, from April 7 to July 30.