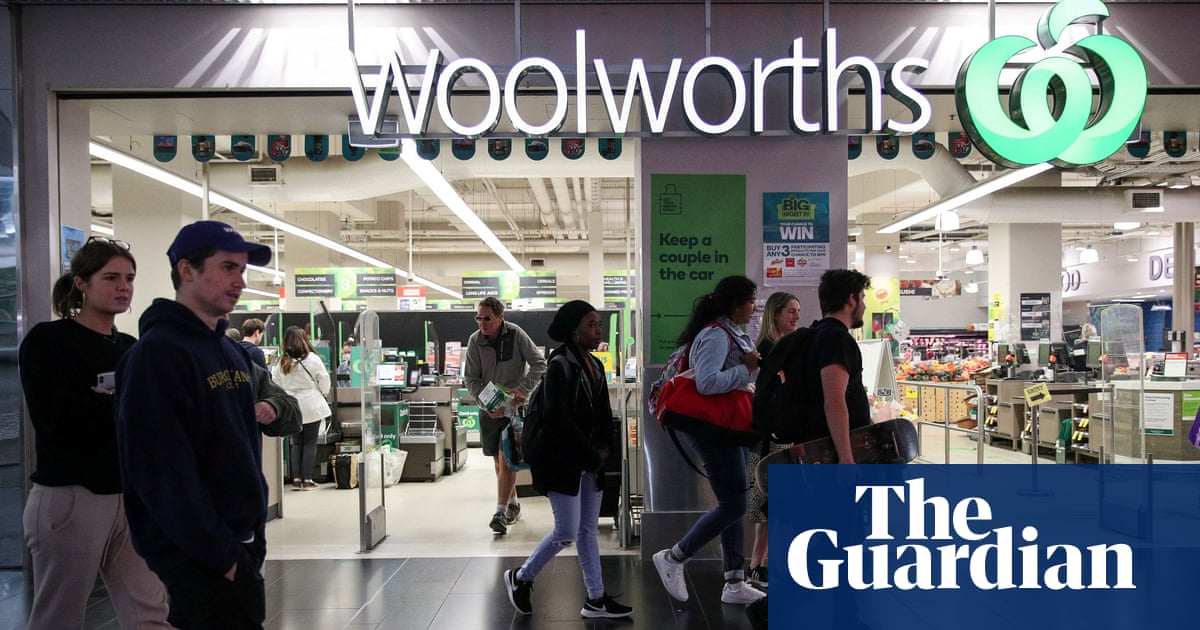 Woolworths has expanded the use of technology that films customers scanning items at self-checkouts to 110 stores in three states, as critics say the functionality could make people feel they are under constant surveillance.
For the past year, Woolworths has trialled new self-checkouts with cameras installed overhead to observe customers scanning items. The company said artificial intelligence is used to detect when items are not scanned correctly, with footage of the scan recorded and played back to the customer instructing them to re-scan.
Woolworths said the purpose is to prevent accidental wrong scans, but it also works as a loss-prevention tool for the supermarket when, for example, a customer scans fresh produce as a cheaper item instead.
The footage cannot be viewed live but Woolworths said it is retained for training staff. The company said customers' faces are blurred and pin pads are blacked out.
Samantha Floreani, a program lead for Digital Rights Watch, said the technology could make many shoppers feel "like they are constantly being watched and recorded".
"This kind of normalisation of surveillance makes space for the growing use of invasive technologies in everyday life to access everyday essential services," she said.
"These technologies are framed as an improvement for customers, but in reality, it is punitive use of automation technology to cut costs on staffing for large corporations while treating every customer as a suspect."
The first trial of the technology began at Seven Hills in western Sydney, but was expanded to four other stores in the state by September last year. It has since expanded to 110 stores in New South Wales, Queensland and Victoria.
"Following a recent trial phase, we're expanding the rollout of this technology," a Woolworths spokesperson said.
"It helps reduce mis-scans and is one of a number of initiatives we've rolled out across our checkouts to make shopping more convenient and seamless."
Woolworths said customers had "supported" the initiative, and there were strict policies in place to protect customer privacy. Guardian Australia asked Woolworths how and for how long the data was stored but did not receive a response.
The company has signage on display at the front of stores and at the entrance to self-checkouts where the technology is in use.
Kate Bower, consumer data advocate for consumer group Choice, said the rapid expansion of AI-assisted technologies in retail in the past few months showed the need for urgent legislative reform to protect consumer privacy.
"Currently, businesses are making up the rules as they go along and customers are left navigating the confusion and assessing the risks for themselves," Bower said.
skip past newsletter promotion
Sign up to Guardian Australia's Afternoon Update
Our Australian afternoon update email breaks down the key national and international stories of the day and why they matter
Privacy Notice: Newsletters may contain info about charities, online ads, and content funded by outside parties. For more information see our Privacy Policy. We use Google reCaptcha to protect our website and the Google Privacy Policy and Terms of Service apply.
after newsletter promotion
"The Privacy Act review is an opportunity to reset the balance in favour of consumers by introducing a duty of care for businesses to use customer data fairly and safely."
The attorney general, Mark Dreyfus, received a review of the Privacy Act from his department last year, and said last month the government was considering a whole range of modernisations of the act to account for the digital age.
Choice has called for the legislation to enshrine duty of care into privacy law, and is calling for an inquiry into the privacy and consumer harms of AI.
Last year, Kmart and Bunnings suspended the use of facial recognition technology trials in stores following a public backlash and an investigation by the privacy commissioner on whether the trials were consistent with Australian privacy law.
The privacy commissioner, Angelene Falk, told a Senate estimates hearing on Monday night that investigations into Kmart and Bunnings over the use of the technology had "substantially progressed" and could be finalised before the end of June.
Bower said that unlike those trials, Woolworths had given customers options to opt-out and had worked to inform customers about the technology.
"The Woolworths cameras don't collect sensitive biometric data or any personal information," she said. "Woolworths has also taken steps to keep customers informed using a combination of in-store signage and public statements.
"Importantly, customers can opt-out by using the traditional checkout process. These are all consumer protections Bunnings and Kmart failed to implement."