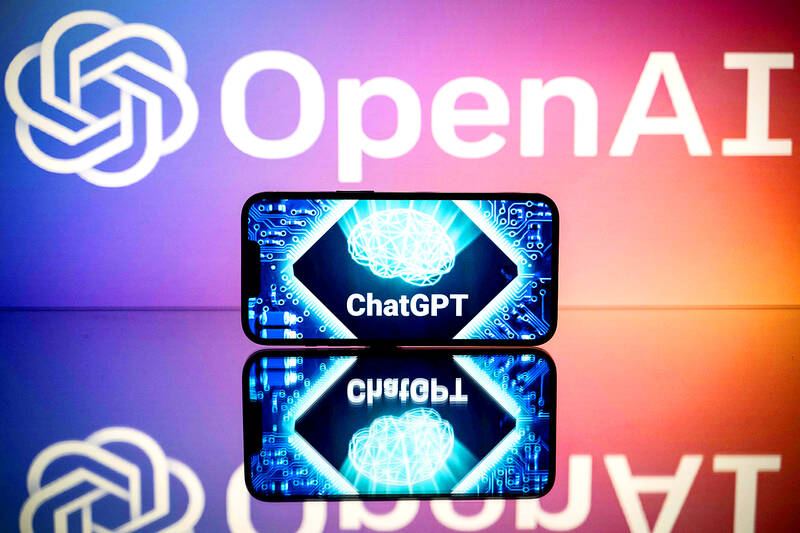 ChatGPT, Silicon Valley's latest app sensation, has investors rushing to find the next big thing in generative AI, the technology that some hail as the beginning of a new era in big tech.
Artificial intelligence (AI) has been increasingly present in everyday life for decades, but the November launch of the conversational software from start-up OpenAI marked a turning point in its perception by the general public and investors.
"Every so often, we have platforms that come along and result in an explosion of new companies. We saw this with the Internet and mobile, and AI could be the next platform," Khosla Ventures operating partner and chief marketing officer Shernaz Daver said.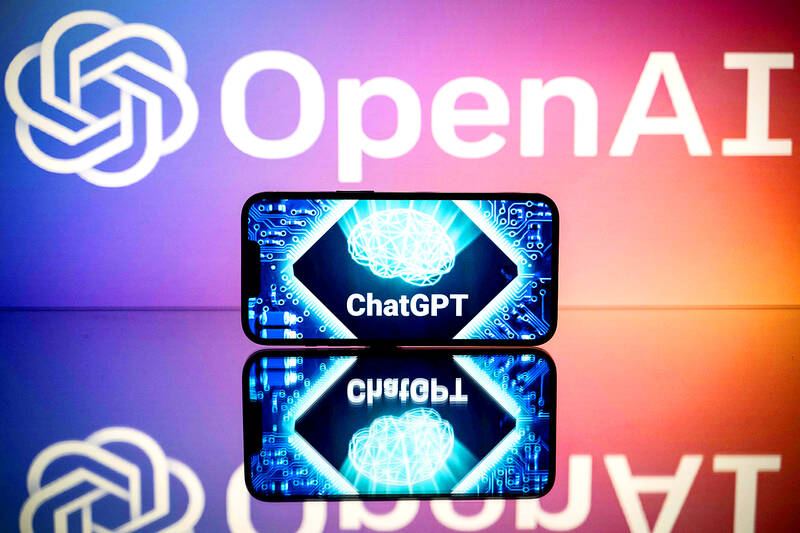 Photo: AFP
Generative AI, of which ChatGPT is an example, wades through oceans of data to conjure up original content — an image, a poem, a thousand-word essay — in seconds and upon a simple request.
Since its release three months ago, ChatGPT has become one of the fastest-growing apps ever, and pushed Microsoft and Google to rush out projects that had until now stayed carefully guarded over fears that the technology was not ready for the public.
"Just five days after its release, a million people used ChatGPT — about 60 times faster than it took Facebook to reach 1 million users," said Wayne Hu, a partner at SignalFire, another venture capital firm.
"Suddenly investors are all talking about how ChatGPT might eliminate millions of knowledge worker jobs, disrupt trillion-dollar industries, and fundamentally change the way we learn, consume, and make decisions," he said.
Hu said that the market valuations for generative AI companies have been sky high, and OpenAI, the ChatGPT creator, is valued by Microsoft Corp at nearly US$30 billion despite still burning through money at a high speed, he added.
Entrepreneurs specializing in generative AI have said they no longer need to scream out for attention when hunting for cash, or walk through the details of what they are trying to offer.
"It's helped us a lot," said Sarah Nagy, founder of Seek AI, a start-up that allows nonspecialists to extract technical data from a database using queries in everyday language.
"Before ChatGPT… I had to explain what generative AI is, and why it matters," she said.
Now the appetite for ChatGPT-like capabilities is seemingly limitless, and not only from investors.
"The demand from customers has increased a lot," Nagy said. "It's even hard to keep up, because we're still a small company."
In the last few weeks, it is mainly the giants that have been in the news, first and foremost Microsoft, OpenAI's partner and investor, followed by Google, which is trying to keep up.
In their shadow, a galaxy of start-ups also have ideas on offer, including California-based Kognitos, which aims to automate administrative tasks.
In addition to the usual venture capitalists, tech giants are on the lookout, such as Google, which just invested US$300 million to acquire 10 percent of newcomer Anthropic and its chatbot Claude.
Hu said the ChatGPT "gold rush" could be unprecedented and expand well beyond generative AI because the technology minimizes the need for a computer coder or designer to execute ideas.
"Now you no longer need to get a Stanford PhD in computer science. Any developer can build something amazing on top of ChatGPT and other foundation models in one weekend," he said.
"This wave of AI could be bigger than mobile or the cloud, and more on the scale of something like the Industrial Revolution that changed the course of human history," Hu said.
Comments will be moderated. Keep comments relevant to the article. Remarks containing abusive and obscene language, personal attacks of any kind or promotion will be removed and the user banned. Final decision will be at the discretion of the Taipei Times.