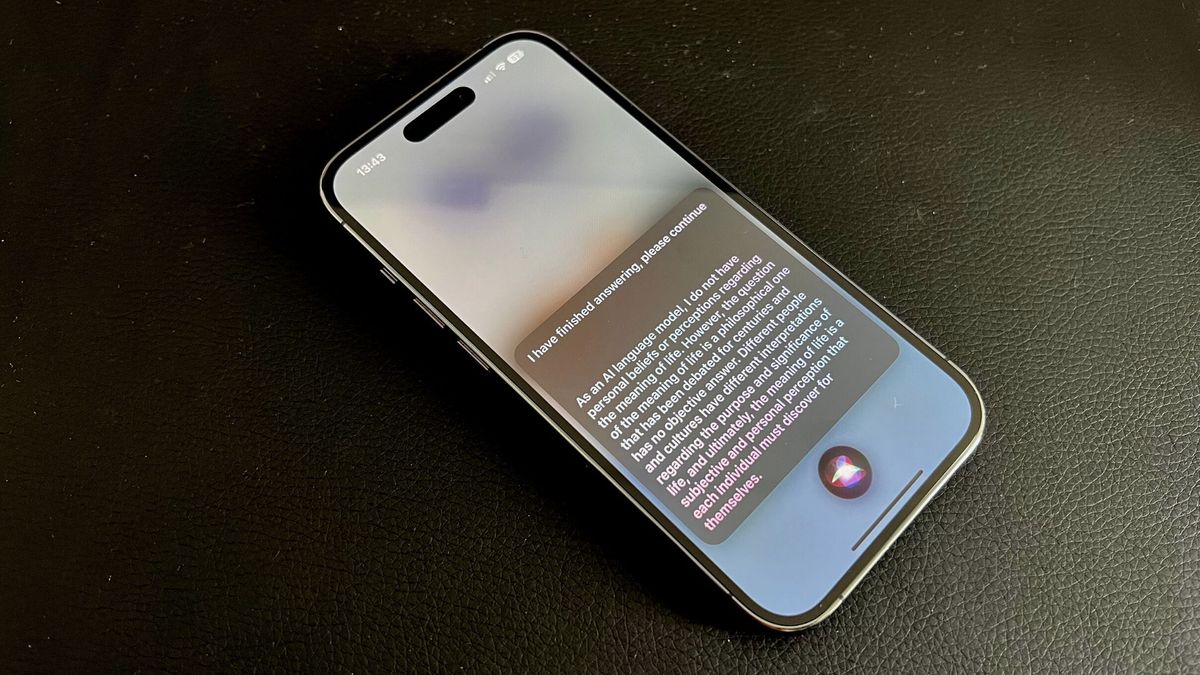 AI is taking the world by storm, and now you can replace Siri with ChatGPT on your iPhone thanks to a simple shortcut. 
ChatGPT is an AI chatbot created by OpenAI and has grown in popularity in 2023 as the software becomes more and more accessible. Microsoft has heavily invested in AI Software and recently integrated ChatGPT into Bing search. 
By using ChatGPT on iPhone you'll get access to a much smarter assistant that can do things Siri can't even dream of.
This guide will show you how to easily install ChatGPT as a shortcut on your iPhone to have the assistant with you wherever you go,  while replacing Siri simply by saying "Hey Siri, ChatGPT".
How to replace Siri with ChatGPT on iPhone
How to replace Siri with ChatGPT on iPhone
We've been using this amazing shortcut by Yue Yang all weekend, our Features Editor, Daryl, even used ChatGPT through Siri to help with completing Metroid Prime Remastered. Here's how to do it. 
First of all, we need to get an OpenAI API key. This is fairly straightforward and can be done by following these steps:
Go to https://platform.openai.com (opens in new tab) to register an account and log in
Click on the hamburger icon in the upper right corner 
Click on the avatar at the bottom of the menu and select "View API keys"
Click Create new secret key 
Copy the API Key (we'll need this in a few steps)
Now that you have an OpenAI API key, it's time to install ChatGPT on your iPhone.
(Image credit: iMore)
Head to Yue-Yang's GitHub (opens in new tab)
Scroll down and click ChatGPT Siri 1.2 (English Version)
This will launch Shortcuts, tap Set Up Shortcut 
Paste your OpenAI API key into the text field
Tap Add Shortcut
"Hey Siri, ChatGPT 1.2"
Now, when you say "Hey Siri, ChatGPT 1.2" your iPhone's smart assistant will launch directly into ChatGPT. This means that you now have the most powerful AI chatbot as an assistant in your pocket at all times. 
Change your ChatGPT activation command on iPhone
Saying "ChatGPT 1.2" is cumbersome and most of the time Siri just fails to understand what you're trying to say. It's easy to fix by simply changing the name of the shortcut in the Shortcuts app.
Open Shortcuts
Press and hold on the ChatGPT 1.2 shortcut
Click Rename
Pick a new name. I chose Siri Pro but you can choose anything
"Hey Siri, Siri Pro" now activates ChatGPT on my iPhone
Changing the name of the shortcut fixes the issues that I initially had where Siri would refuse to understand my Scottish accent and has made ChatGPT on iPhone my go to for any requests – it's seriously that good.
How can I use ChatGPT with Siri on iPhone?
The use cases for ChatGPT are endless, but here are some examples of how amazing your smart assistant can be if you just say "Hey Siri, ChatGPT 1.2".
Food Recipes
(Image credit: iMore)
When you're feeling hungry after work and just want a quick recipe, ask "How can I cook a nice Spaghetti Carbonara?." ChatGPT does all the work and gives you an easy step-by-step guide on how to make a "real" Carbonara. I should know, I'm Italian.
Gaming guides
(Image credit: iMore)
Just like Daryl, I've also used ChatGPT to help with gaming walkthroughs. I asked "How do I catch Pikachu in Pokémon Fire Red" and got a four-step guide on exactly where I can find my favorite electric mouse.
Life's toughest questions
(Image credit: iMore)
The offside rule in soccer is notoriously difficult to explain to newcomers to the sport. As an avid football (soccer) fan, ChatGPT can help out when I can't find the right words. I asked "Explain the offside rule" and got a great answer that was easy to understand.
Celebrity biographies
(Image credit: iMore)
Recently, I wrote an article about previous Oscar winners on Apple TV and I needed some information about Dustin Hoffman's career. Rather than seek out Wikipedia, I quickly asked ChatGPT "Tell me more about Dustin Hoffman's career" and received a quick biography with his most notable acting credits. A game-changer for quick research.
Start using ChatGPT on iPhone, it just works
I'm honestly blown away by the integration of a simple shortcut with Siri. The ability to launch ChatGPT through Siri makes Apple's smart assistant usable when for years I've opted to do things manually because, quite frankly, it's quicker. 
ChatGPT has been around for a while now but this is the first time I've seen a real benefit to using the AI chatbot daily directly from my iPhone. I cannot recommend this shortcut enough, as it makes a fantastic service accessible and easy to use. Definitely, worth the five minutes it takes to get everything working so that you can have the best iPhone possible!