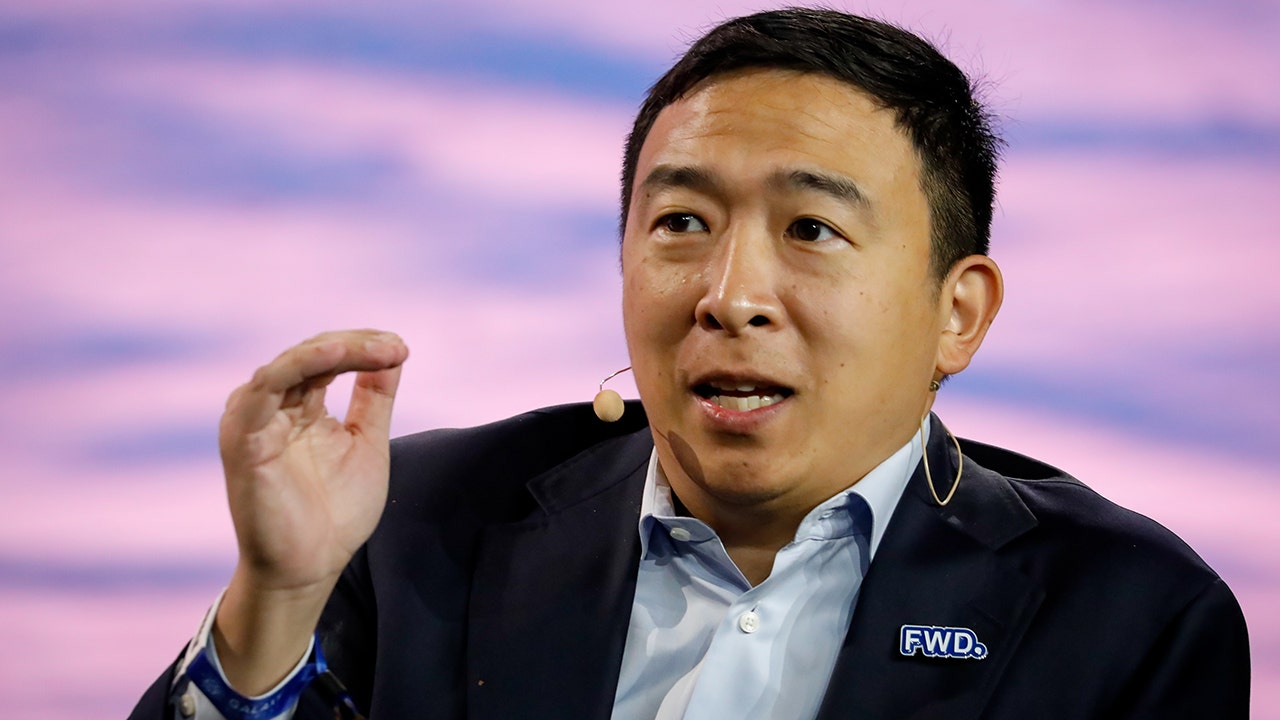 Forward Party co-chair and former presidential candidate Andrew Yang says the U.S. government is 'decades behind this curve' of error-free artificial intelligence.
As some of America's top CEOs and tech experts sound the alarm on the dangers of artificial intelligence (AI), one prominent politician and former presidential candidate has joined the warnings calls.
"It can be a force for civilizational progress, but it can also destroy us at the high end. So you would want a tailored approach. You'd want an AI-dedicated body that actually understands the pluses and minuses and the different use cases of AI," Forward Party co-chair Andrew Yang said on "Cavuto: Coast to Coast" Monday. "And that's something we don't have because our government is decades behind this curve."
Tesla CEO and Twitter owner Elon Musk advised consumers and policymakers to be careful when using AI and exploring advancements, claiming current AI models operate with the desire "to annihilate humans."
"AI is more dangerous than, say, mismanaged aircraft design or production maintenance or bad car production," Musk told Fox News' Tucker Carlson. "In the sense that it has the potential, however, small one may regard that probability, but it is non-trivial, it has the potential of civilization destruction."
TWO-THIRDS OF U.S. JOBS COULD BE EXPOSED TO A.I.-DRIVEN AUTOMATION: GOLDMAN SACHS
Acknowledging that tech automation has "very positive effects," while noting one company that uses AI to help Alzheimer's patients, Yang also warned the innovations are becoming "more and more dangerous."
Andrew Yang said on "Cavuto: Coast to Coast" Monday that artificial intelligence "can also destroy us at the high end." | Getty Images
"We all should be concerned. I was talking to my friend about this and she said, 'Hey, what's the worst that could happen?' And I said, well, unwarranted military conflict, mass identity theft, spoofing of people by voices of their loved ones, giving them a call," Yang explained. "All of these things are now on the table. Science fiction-type scenarios are here with us."
Last month, Musk along with 1,000 other industry leaders signed a letter asking AI developers to "immediately pause for at least 6 months the training of AI systems more powerful than GPT-4."
People who signed the letter, however, said that AI development overall shouldn't be paused, but called for "stepping back from the dangerous race to ever-larger unpredictable black-box models with emergent capabilities."
Cyderes CEO Robert Herjavec discusses potential artificial intelligence regulation in the U.S. as the global 'race for information' heats up on 'Varney & Co.'
Yang indicated Musk and his peers are right to raise security concerns around AI.
"The incentives for these tech companies are to go as fast as possible because you're in a bit of a race. And in that kind of context, bad things are likely to happen," Yang said. "So I think Elon's spot on in calling for a pause, that's why I joined him in that letter."
Musk also told "Tucker Carlson Tonight" in an exclusive two-part interview that the same way the government is tasked with regulating food and drug consumption should be how parameters for AI are created.
GET FOX BUSINESS ON THE GO BY CLICKING HERE
Elon Musk shares with 'Tucker Carlson Tonight' why negative news has such an effect on people and how the majority of previous Twitter employees were used for censorship.
The billionaire tech mogul said he has been a longtime advocate of strong but sensible regulation so that companies don't cut corners on safety and get people hurt.
"It's not fun to be regulated. It's sort of arduous to be regulated. I have a lot of experience with very good regulated industries because obviously automotive is highly regulated. You can fill this room with all the regulations that are required for a production car just in the United States."
Fox News' Adam Sabes and Charles Creitz contributed to this report.